Emulate Nature for Performance Gains. (The cheetah accelerates to 60 mph in 3 strides.)
 High Performance Stride Dynamics for Increased Speed and Endurance.
By definition: Master Class Level Instruction is access to unfamiliar realms of physical dynamics, and metaphysical training. Aspects of increasing the "fueling role" of oxygenation is often overlooked.
Determine if this information will immediately increase your running performance:
1. Quickly walk around for a few steps wherever you are.
2. Next, Walk quickly by focusing on "pushing the knees forward" as quickly as possible.
(The feet will be pulled forward by the knee action.)

If the speed and length of stride increase;
then this video is a low cost investment to immediately increase your performance potential.

Maximizing Performance includes:
* Knee bio-dynamics for stride increase and speed creation.
* Instantly placing the entire up-weighted body into low impact, flowing motion.
* Utilizing the effects of complete body energy potential; including the experience of a graceful, long stride.
* Accessing these attributes as the natural way of functioning and everyday appearance.

Capture the "effortless flowing motion" of a long, up-weighted stride.
Benefit from:
* Lengthened stride.
* Greater speed.
* Longer endurance.
* More power.
* Lower foot/knee impact.
* Obtain the elusive propulsion from behind (Pushing the hips forward from behind. See cheetah photo.)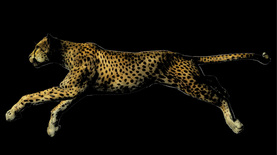 ---