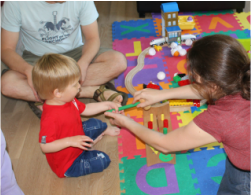 Natural Physical Performance Bio-dynamics can be intentionally retained; and taught to youth.Assisting in the development of life navigational skills includes physical performance,
oneness/being in the zone, perception, insight, timing training, and creativity .
The empowerment over intimidation and bullying is one of the most vital inclusions in this complete/holistic mentoring approach.The fundamental keys to physical performance can be taught as "Free Will" training.There are natural properties of dynamics that can increase the performance levels by utilizing both halves of the breath cycle. The inhale cycle oxygenates and therefore increases metabolism and energy. Benefits include athletic development and coordination. The "Full Body Oxygenation " Video is the prerequisite to all the performance videos.
It conditions the body to move on both halves of the breath cycle. Toddlers do this type of movement naturally. It is what gives them strength to clench objects to try to maintain possession of them; or keep their legs straight to prevent seating into a high chair; or walk with a natural balance. Metaphysically this also infuses their artwork and movements with personal energy (the spark of refrigerator art) and also makes their singing so precious. Around 2-4 years of age the toddlers lose this natural ability. Those that retain the use of both halves of the breath cycle we call "naturally gifted."As a curriculum for parenting; coaching, and leaders can encourage the youth to use the inhale aspects of their breath rhythms, and the little finger grasp method. A few reminders with some instruction should be all it takes to keep them moving with both halves of the breath rhythm. The knee lifts can become a fun dance routine. Steps can vary, syncopation/upweighting and balance can be learned while dancing around the room. This oxygenation video is a prerequisite to learning the performance applications in Performance Package 1. The videos are a "one stop," source of detailed information. With the information, the parents and leadership can mentor the youth. It is a high level teaching/coaching curriculum at the gifted performance level. The video package is complete because the youth need the information on a holistic approach. The information is the same as used for adults so the youth are getting an advanced learning experience.
Video clips are available on
youtube
. Playlists include: Athletics/Dance/Martial Arts; Appearance and Health; Archery; Arts/Painting/Performing Arts; Bullying/Intimidation/Adversity; Center/Hara/Dan Tien; Empowerment/Life Navigation; Equestrian/Horseback riding; Full Body Oxygenation; Music; Performing Arts; Wellness/Healing/Pain Relief.
Commentary on videos; tidbits on
Facebook.
The naturally gifted youth will become even more creative or outstanding in performance.The youth that are having difficulties will have new dimensions of ability added to their life skills. The ability to participate with more ease is a huge social factor.

---