Full Body Oxygenation Techniques for Dancers, Gymnastics, Acting, and Artists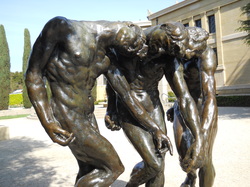 The Ability to bring out and communicate those things that are within us is the realm of the arts. At a certain level of performance the body has to be trained to deliver expression and muscular movements in precise, tension free spontaneous, flows of energy.
Often the technical plateau can be bridged via going to the metaphysical realm of breathing techniques. It is the oxygenation process that joins the biological to the metaphysical. And we receive the arts impact via the metaphysical and not the technical (Hendrick Van Loon).
Although some people are naturally gifted this way; others can train in the bio-dynamics and metaphysics of gifted performance.
The technical aspects of high level performance are carried by unique muscle responses to the oxidation process which triggers them. This gives the connecting and energy properties of creativity and effortless motion. The total lack of tension is the realm of the highest levels of performance. Holistic approach is also required if want to connect.
---
Performance Package 1 is a complete approach to the bio-dynamics and metaphysics of Gifted Performance and Movement.
A holistic approach is taken because the results are holistic. This includes the meta physical aspects of oneness/being in the zone and connectivity.
This is a highly detailed, bio-mechanical approach because the technical foundation has to be established.
Then the metaphysical connective properties are added for the connection and ultra dimensioned aspects and layers of gifted performance.
The connection between the technical/biological and the metaphysical is the breathing dynamics. Unique to this performance package is the use of Full Body Oxygenation to energize the "technical."
Oneness/being in the zone is to become a way of being so these factors are also introduced in easy to acquire methods. One of those methods is via driving an automobile or bicycle.
​ More info on Performance Package 1 (click here)